On the keto diet, do you yearn for Mexican food? Me too! This quick and simple keto cuisine can be prepared in just 15 minutes and will satisfy your hunger for Mexican food. Additionally, even the youngsters will adore these low-carb taquitos. You can serve these keto chicken taquitos as your main course or as an appetizer!
What distinguishes Taquitos from flautas?
The type of tortilla that is used in the recipe is the fundamental distinction between taquitos and flautas. Flautas are normally made using a flour tortilla, while tacos are typically made with corn tortillas. A low-carb corn tortilla has yet to be discovered. They might exist, but for the purposes of this recipe, I'll continue to refer to them as keto taquitos since that is the more widely used word.
Leftover chicken
If you have any leftover chicken, this is a terrific keto dish to use it up. I frequently meal prep, so I'll cook a sizable amount of chicken in the instant pot early in the week and utilise it to create keto dinners all week.
You can also make these keto taquitos more quickly by using a pre-cooked rotisserie chicken from the grocery store. For the taquito filling, you can shred or cut off pieces of chicken. Even precooked, shredded chicken is sometimes offered for sale at the deli counter in some supermarkets.
Tortillas Low in carbs
Although it would require an additional step, you may create your own keto tortillas for this simple keto lunch recipe.
I choose to use readymade low carb tortillas because this is a dish I like to prepare for my family when we are pressed for time (like a midweek keto dinner). Most supermarkets carry these, or you can get the tortillas online.
Mission Carb Balance Tortillas are the most popular brand found in grocery stores. These soft tortillas offer the same texture, appearance, and flavor as traditional tortillas, but only 6 gram of net carbohydrates per serving. Don't buy these tortillas if you're trying to avoid gluten because they do contain it.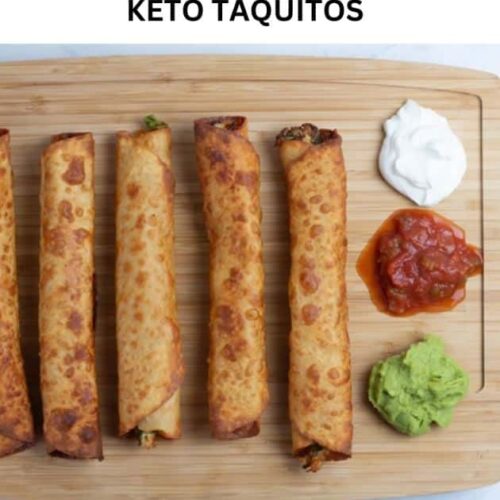 Keto Taquito
Making these crunchy Keto Taquito is a fantastic way to use up leftover chicken or a deli rotisserie chicken. A crispy chicken taquito is made by combining shredded chicken with a creamy cheese combination, encasing it in a low carb tortilla, and frying it.
Ingredients
3 cups of rotisserie or chopped chicken

8 ounces softened cream cheese

2 cups of spinach, chopped

2 cups of grated Mexican cheese (cheddar cheese, jack cheese)

30 ml of sour cream

25% of salsa

8 tortillas low in carbs

frying using avocado oil (or olive oil)
Instructions
In a skillet, warm the avocado oil over medium-high heat. A taquito should have at least half of its wrapper covered in avocado oil.

In a medium bowl, combine the shredded chicken, cream cheese, spinach, shredded cheese, sour cream, and salsa.

A tortilla should have 1/3 to 1/2 cup of the filling. Wrap the filling in the tortilla.

A few taquitos should be added to the hot oil and fried for one minute on each side.

Taquitos should be taken out of the pan and dried on paper towels. Serve with salsa, guacamole, or sour cream.
Notes
NOURISHMENT FACTS
Size of Serving: 1 
8
SERVINGS
388
CALORIES
23.7g
FAT
33.9g
PROTEIN
5.3g
COMP CARB
21.1g
ENTIRE CARBS