KETO KRISPY KREME DONUTS that are fluffy and moist with the ideal glaze and icing! With just 10 ingredients, you can easily prepare these glazed Keto donuts.

Want a delectable treat like a Krispy Kreme donut but want to cut back on your sugar intake? These glazed Keto donuts are now your go-to sugar-free sweets, whether Krispy Kreme or Dunkin Donuts are on your mind.

Even though I don't follow the keto diet, I enjoy eating sweets that don't include refined sugar (try the chocolate peanut butter and pumpkin cheesecake fat bombs!)
The Benefits of This Recipe
No sugar, just all the sweetness.
You may sate your sweet tooth with keto donuts.
handmade treats are inexpensive and simple to make compared to Krispy Kreme or Dunkin.
Guidelines for Making This Recipe
This recipe's step-by-step instructions are provided below. The precise cook time and temperatures are listed on the recipe card at the bottom.
All of your doughnut ingredients should be combined. I completed this task with just a whisk and a mixing bowl.
Add the wet ingredients and mix thoroughly.
Use coconut spray to coat the doughnut pan, filling it about two-thirds of the way.
Bake in the oven for FOURTEEN to SIXTEEN minutes. Keto donuts should cool in the pan for five minutes before being transferred to a cooling rack to finish cooling.
Making A Keto Glaze
When you prepare the glaze, let them cool.
Take a sauce pan. Melt the butter. Put sweetener. Add vanilla after stirring until the sweetener has completely melted. Over medium heat, stir for approximately 5 minutes.
Take the glazing off the heat.
After cooling fully, dip each donut in the glaze.
Professional Advice
Storage: Keeo Glazed Keto donuts at room temperature for up to three days in an airtight container.
In a freezer-safe container, you can store them for up to three months.
FAQs
How should my doughnut pan be filled?
You can alternatively carefully pour the batter into the doughnut pan using a bowl with a spout.
To prevent my donuts from rising out of the pan?
No more than 2/3 of the way full should your pan be. The donuts will spill over if the pan is completely filled.
How can I avoid having my food stick to the pan?
I thoroughly spray the doughnut pan with coconut oil spray to prevent my Keto donuts from sticking to it.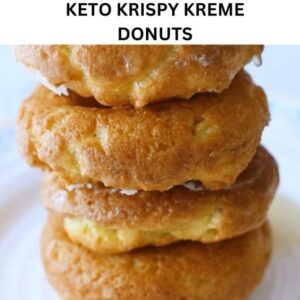 KETO KRISPY KREME DONUTS
Keto Krispy Kreme donuts that are fluffy and moist with the ideal glaze and icing! With just 10 ingredients, you can easily prepare these glazed Keto donuts.
Ingredients
INGREDIENTS IN DONUT
2 eggs

1/4 cup protein powder and 2 cups almond flour

Coconut flour, 2 tablespoons, and 1/4 cup Swerve or powdered monk fruit sweetener

4 grains of salt

two tablespoons of baking powder

a single vanilla bean

Unsweetened vanilla almond milk, 1/8 to 1/4 cup
GLAZE COMPONENTS
1/4 cup of grass-fed butter

1/4 cup Swerve or Monk Fruit Sweetener in powder

a single vanilla bean
Instructions
Directions for donuts
Oven: Preheat to 350 degrees.

Combine all of the doughnut ingredients.

Spray coconut oil on a doughnut pan. Pipe donuts into the prepared donut pan, filling them about two-thirds of the way, using a quart-sized bag or a frosting bag. Bake for 14 to 16 minutes. Donuts should cool entirely on a baking rack after five minutes in the pan.
Directions for Glaze
Before dipping doughnuts in glaze, let them cool fully.

Melt(over medium heat) the glaze ingredients in the microwave..

Take the glazing off the heat.
Notes
Nutrition
Serving: 1 doughnut; 164 kcal; 5.2g carbohydrate; 4.1g protein; 11.3g fat