You might forget that you are on a ketogenic diet when you consume KETO STRAWBERRY CHEESECAKE FAT BOMBS! With this simple, tasty, and low-carb treat, you can satisfy your desires!

Whether you're trying to avoid sugar or not, you'll undoubtedly love these tiny bits of unadulterated bliss!
Keto fat bombs with strawberry cheesecake
Although Keto Strawberry Cheesecake Fat Bombs contain no sugar, they are just as icy cold as your preferred ice cream.
Due to the high fat content, which will assist curb their sweet tooth, those who follow the ketogenic diet will gain from these snacks.
This dish is a pleasant change for someone like me who, I'll admit, has a sweet tooth because most sweets are sugary and high in carbohydrates.
I continually look for a balance that serves my needs. I make an effort to include some keto-friendly desserts in our meal rotation among all the sweets I have grown to enjoy.
Therefore, if you're like me and always look for keto-friendly dessert alternatives, you've come to the correct place! The fruit and cream cheese pairing in this recipe is exquisite. With one simple dish, the sweetness and tartness taste wonderful combined.
Also, this recipe just needs 5 ingredients and usually takes 5 minutes to prepare. Try it now, then!
A fat bomb is what?
These are little, bite-sized sweets that are typically produced with a foundation that is heavy in fat, a substitute for sugar, and some extras, like fruits. With the keto diet, they are consumed as simple snacks or as a meal substitute.
These fat bombs, which are shaped into tiny scoops, balls, or discs, may be addictive. These tasty delights are enjoyable by everyone, keto or not!
Making keto fat bombs with strawberry cheesecake:
Mix: Place all ingredients in a bowl, adding the strawberry pudding and strawberry bits last.
Form: Scoop up some of the ingredients and roll it into a ball. It ought to be put on the parchment-lined baking sheet. Continue until you have enough. At this stage, you can add crushed chocolate chips for taste and texture by rolling the balls in them.
Freeze: Freeze the baking sheet completely by placing it in the freezer for two hours.
Which sweeteners work best?
You can use any one of these three low-carb sweeteners alone or in combination with the others:
Stevia: a sweetener derived from a medicinal plant that is sweeter than sugar and may also help regulate blood pressure and blood sugar levels.
Erythritol: useful for baking since it allows for better sweetness control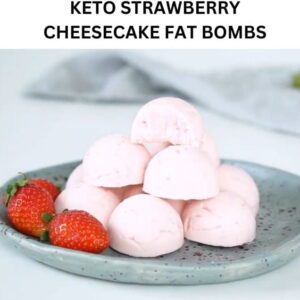 KETO STRAWBERRY CHEESECAKE FAT BOMBS
You might forget that you are on a ketogenic diet when you consume KETO STRAWBERRY CHEESECAKE FAT BOMBS! With this simple, tasty, and low-carb treat, you can satisfy your desires!
Ingredients
8 ounces of room temperature cream cheese

1/4 cup of unsalted butter

2 tablespoons of sweetener (I used Swerve)

1 container of sugar-free strawberry pudding

and 3 cups of frozen strawberries (chopped)

Crushed sugar-free dark chocolate chips, 1/2 cup (optional)
Instructions
Put parchment paper over a baking sheet and keep it aside.

Stirring until completely smooth, combine cream cheese, butter, and sweetener in a medium bowl. Add the low-carb, sugar-free strawberry pudding.

Add the diced, frozen strawberries after that. The combination will be simpler to manage after 30 minutes of cooling.

Form dough balls by scooping small golf-sized portions. Roll in crushed chocolate chips. Put on prepared baking sheet.

The fat bombs should be frozen for two hours or until solid.
Notes
Nutrition
calories: 63 kcal; carbohydrates: 5g; protein: 1g; fats: 5g; saturated fats: 3g; cholesterol: 15mg; sodium: 95mg; potassium: 76mg; fibre: 1g; sugar: 2g; vitamins: 170 IU of vitamin A; 16mg of vitamin C; 26mg of calcium; and 1mg of iron.