My grandmother and I have been preparing traditional Canadian pork pies for years, and this Keto Tourtiere is an adaption of that recipe. No one will care that it is low in carbohydrates and gluten-free because it is so satisfying and tasty!
My grandma and I used to bake a ton of Tourtieres (French Canadian Pork Pies) every fall when we still lived in Connecticut so that we could freeze them for special occasions all year long. A few years ago, I revealed our family recipe in a post about it.
Since then, I've received numerous inquiries from folks seeking a recipe for a low-carb, gluten-free Keto Tourtiere.
Low Carb Version
Finally, I made a version that is low in carbs and gluten-free so that you and I may eat it without deviating from our diet plans. My grandmother won't believe this, but Mr. Hungry believes it to be even better than the original! Shhhh….
It has a flavor and texture that is really distinctive and comforting, which I have liked since I was a young child.
I've seen people take off the top and slather it with ketchup, but for me, that's the only complement a decent Tourtiere needs (maybe a salad if you're eating it as a main course rather than an appetizer).
I'll slash you if you do it at my place. That's it.
I used pureed cauliflower for my grandmother's customary mashed potatoes to make this Keto Tourtiere satisfying low carb. When I initially attempted it, I wasn't sure how it would turn out, but the subtle sweetness of the cauliflower actually gives a depth of flavor that the pork pie made with potatoes lacks. It's wonderful!
Low Carb Crust
I modified the low carb crust from my low carb chicken pot pie to make the crust for this Keto Tourtiere. Since I didn't want a strong cheese flavor in this, I used mozzarella instead of the cheddar cheese that was used in the other recipe. It works excellent and tastes fantastic, but if you don't properly incorporate it, the dough will develop cheese freckles, as shown above.
For this reason, I advise against using pre-shredded cheese because it is coated in starch and won't melt properly. Instead, use a block of full-fat mozzarella that you grate yourself.
This gluten-free pie crust recipe, like most others, is on the flimsy side even with the cheese. Although it's difficult to deal with, the outcomes are worthwhile.
This keto tourtiere's crust and meat filling work together to create a very cosy and exquisite flavor and texture that the whole family will love.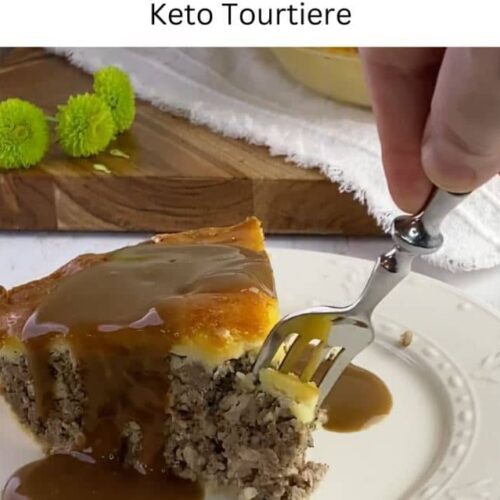 Keto Tourtiere
My grandmother and I have been preparing traditional Canadian pork pies for years, and this Keto Tourtiere is an adaption of that recipe. No one will care that it is low in carbohydrates and gluten-free because it is so satisfying and tasty!
Ingredients
For the pie crust (makes two 9 inch rounds):
1

egg

1/4

cup

finely shredded mozzarella cheese

1/4

cup

butter

1/4

teaspoon

xanthan gum

1/4

teaspoon

salt

2

cups

superfine almond flour
For the pork filling:
2

tablespoons

butter

2

cups

cooked cauliflower

1

tablespoon

ground sage

1/4

teaspoon

ground cloves

1/4

teaspoon

ground nutmeg

3/4

teaspoon

ground allspice

1/4

teaspoon

black pepper

1.5

teaspoon

kosher salt

1/2

cup

water

1/3

cup

raw onion, pureed in a blender or magic bullet

2

lbs

raw ground pork
Instructions
Creating the pie crust
The dry components should be carefully mixed together.

Use a fork to thoroughly mix the butter and cheese in a medium bowl.

Use a fork or pastry cutter to thoroughly combine the dry ingredients into pea-sized lumps after adding them to the bowl.

Stir in the egg until a dough forms.

Before spreading out the crust for your pie, divide the dough into 2 balls of equal size and refrigerate them for ten minutes.
Making the pork stuffing involves:
The meat, salt, onion purée, and water should all be placed in a heavy saucepan. (The water aids in preventing the meat from overcooking and forming big, tough bits.)

Cook it for about 15 minutes at medium heat, or until it is thoroughly cooked and most of the water has drained, stirring occasionally to prevent browning and the presence of large chunks of flesh.

Blend to purée the cooked cauliflower; you should have around 1 cup of puree.

Mix the meat completely with the butter, seasonings, and pureed cauliflower. After tasting the mixture, adjust the salt and pepper as needed.
To put the pie together:
Pre-heat the oven to 350 degrees Fahrenheit if you intend to make the pie right away.

A doughball is rolled out between two sheets of parchment paper. Place the crust dough in the bottom of a 9-inch pie pan after removing the parchment.

Spread the meat mixture evenly after spooning it into the pie plate.

Your second dough ball should be rolled out between two parchment sheets to fit the top.

Place the crust dough on top of the filling after removing the parchment.

To seal it, push the edges together and crimp them with your fingers or the tines of a fork.

To allow steam to escape during baking, make a few vents on the top of the dough with a sharp knife.

Bake right away or wrap in foil and freeze for later use.

These take about an hour to bake at 350 degrees when we take them out of the freezer. It will probably take 40 minutes to bake them if they are not frozen. Use your discretion because getting the crust a good golden brown is really all that matters now that the filling is fully cooked.

With heated green olives, serve.
Notes
About 485 calories, 41 grammes of fat, 4 grammes of net carbohydrates, and 29 grammes of protein per slice.
Nutrition
Size of Serving: 1/8 of a Pie
485 calories
Fat: 41g
4g of carbohydrates protein net: 29 g