One method to guarantee success on the keto diet is to keep a supply of keto-friendly snacks close at hand. Without it, it's simple to give in to temptation and eat something that will cause you to exit ketosis rapidly. We're offering this recipe for beginner-friendly Dark Chocolate Keto Clusters to make sure that doesn't happen. After a fatty dinner, this bittersweet, salty, and crunchy treat is the best! You only need five ingredients and ten minutes to make one of these bite-sized chocolate clusters.
However, before you begin making these dark chocolate clusters…
What kind of chocolate you use is crucial. We're using 85% dark chocolate in this recipe, which is undoubtedly bitter for some people.
Choose 70% dark chocolate (the label should indicate 70% cocoa powder) if you prefer a less bitter option. Now, you can use a product that has more than 85% cocoa if you want the "genuine" chocolatey taste!
Use sugar-free dark chocolate to ensure that this delectable treat has the fewest carbs possible. To balance the bitterness of dark chocolate, the majority of manufacturers utilise stevia and other low-carb sweeteners. However, some companies do covertly add normal sugar to sweeten their goods; therefore, double check the nutrition panel for the amount of carbohydrates.
This recipe yields 10 dark chocolate keto clusters, each of which has 101 calories and 2.2 grams of net carbohydrates.
Given that black chocolate is less sweet than milk chocolate, why use it in this recipe?
Because it includes so much milk and sugar, milk chocolate is sweet. However, 100% natural chocolate is actually bitter rather than sweet. And that's actually a good thing since darker chocolate generally has more health benefits!
Choose dark chocolate with at least 70% cocoa powder if you wish to benefit from chocolate's health advantages. What you get from a 100g bar of 70-85% dark chocolate is as follows (source):
58% of the magnesium RDA
98% RDI for manganese and 67% RDI for iron
11g of dietary fibre at 89% RDI for copper
Dark chocolate also contains bioflavonoids, PQQ, and resveratrol as additional ingredients.
Can I add some sugar with low carbs?
Of course, it takes some getting used to dark chocolate without sugar. Your taste buds might be in for a surprise if this is the first dark chocolate keto treat you've ever had. Try dusting some erythritol powder on top of your chocolate cluster to sweeten it up. Although erythritol doesn't have as much sweetness as ordinary sugar, it contains almost no net carbohydrates. Perfect for giving our dark chocolate keto cluster cookies a little more sweetness!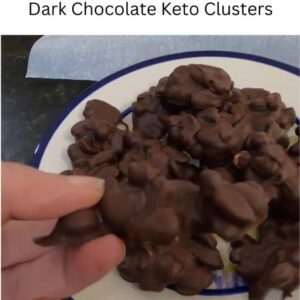 Dark Chocolate Keto Clusters
We're offering this recipe for beginner-friendly Dark Chocolate Keto Clusters to make sure that doesn't happen. After a fatty dinner, this bittersweet, salty, and crunchy treat is the best!
Ingredients
¼

tsp

flaky sea salt

1

tbsp

crushed freeze-dried strawberries

¼

cup

unsweetened coconut flakes

½

cup

slivered almonds

2.50

oz

85% dark chocolate

(sugar-free)
Instructions
To begin with, you must melt the chocolate bar. Although it will take a little longer than if the chocolate is broken or chopped into tiny bits, you can just place the entire bar in a bowl that can be heated in the microwave. In either case, microwave everything for 30 to 40 seconds at a time, stirring carefully after each interval, until everything is completely melted.

Note: To prevent scorching the chocolate, you might need to set your microwave to 70–80% power.

If you don't have a microwave, you may also melt the chocolate over a double boiler. Make sure the bottom of the heatproof bowl doesn't touch the hot water when you place it over a saucepan of simmering water. Gently and often stir.

The bowl of melted chocolate should now contain the coconut flakes and almond slivers. The mixture needs to be stirred for about a minute for the chocolate to thicken. Before moving on to the following stage, let everything somewhat cool.

Scoop the chocolate, almond, and coconut flakes mixture onto a baking sheet covered with parchment paper. Use a lot of each scoop. 10 clusters are produced by this recipe.

Crushed freeze-dried strawberries and flaky sea salt are sprinkled over the clusters. You can either eat it right away or put it in the fridge for 10 to 20 minutes to let the chocolate solidify.

Would you like these dark chocolate clusters to be more crunchy? Prior to eating them, store them in the freezer!
Dietary Information
Dark Chocolate
Calories (g) (g)
Fat (g) (g)
Carbs (g) (g)
Fiber (g) (g)
Total Carbs (g)
Protein (g) (g)
85% dark chocolate, 2.5 oz.
500
46
21
8
13
7
12 cup of almonds, sliced
360
32
14
8
6
14
14 cup coconut flakes without sugar
140
12
6
4
2
1
1/4 tsp. sea salt
Crushed freeze-dried strawberries, 1 tablespoon
8
0
1
0
1
0
Totals
1008
90
42
20
22
22
in servings (10)
100.8
9.0
4.2
2.0
2.2
2.2