Free Keto Meal Plan: Keto Diet Plan For Beginners Step-By-Step Guide
This no bean, low carb soup is loaded with Mexican flavor and none of the carbs! At less than 6 net carbs per serving this Cheesy Keto Taco Soup will be your new favorite!
Keto Cheesy Taco Soup
Warm up with this delicious Soup! This silky, delectable keto soup has cream cheese, bell pepper, jalapeño, tomatoes, chiles, and ground beef. This dish is delicious and quite satisfying. Even the pickiest eaters in your family will eat this soup and ask for more.
This low-carb soup recipe will satisfy your winter soup hunger while still maintaining a low carb intake. It is incredibly warming and cozy.
How To Make Keto Taco Soup?
This dish is based on my enormously well-liked Keto Chili. The soup's base is a blend of beef broth and tomato paste, which results in a hearty broth with a blast of tomato flavor without the added carbohydrates of tomato juice.
Tips Best Taco Soup
In order for the cream cheese to melt into the soup without curdling, make sure it is at room temperature.
This is one of those meals that, in my opinion, grows better the longer it rests, making it a great choice for meal preparation. Reheat in the microwave.
Add shredded cheese, avocado, and sour cream to this simple keto soup for a quick dinner that everyone will like.
Free Keto Meal Plan: Keto Diet Plan For Beginners Step-By-Step Guide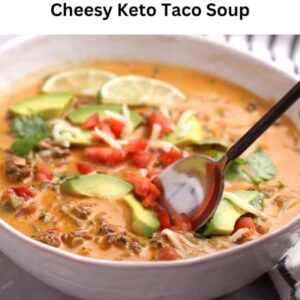 Cheesy Keto Taco Soup
Ingredients
2

pounds ground beef or turkey

1/2

cup

green bell pepper, finely chopped

1

jalapeño,

seeded and finely chopped

(One 32 ounce carton beef broth + 1 cup) 5 cups beef broth

1

(7 ounce) can tomato paste

2

cans diced green chilies ( Four ounce)

1

package taco seasoning

cut into small pieces, 4 ounces room temp cream cheese,

1/4

cup

cream
Instructions
Stovetop Version:
Take a sauce pot and over medium high heat, brown the meat. Drain off any grease

Add the taco seasoning, undrained tomatoes, green chilies, tomato paste, beef broth, taco seasoning and peppers, stir well.

Over medium low heat, let chili to simmer uncovered for approximately Twenty minutes until the tomato juice has thickened and reduced.

Just before serving, stir in the cream cheese and cream.
Slow Cooker Version:
As directed, brown the meat, transfer to a slow cooker and drain off any grease.

Add the taco seasoning, undrained tomatoes, tomato paste, beef broth, green chilies, peppers and stir well.

On low, heat for 6-8 hours.

Add cream and cream cheese just before serving, stir until it gets dissolved.
Notes
Nutrition Information:
Amount Per Serving:
CALORIES: 279
TOTAL FAT: 15.8g
CHOLESTEROL: 93.9mg
SODIUM: 466mg
CARBOHYDRATES: 6.9g
NET CARBOHYDRATES: 5.3g
FIBER: 1.6g
SUGAR: 4.5g
PROTEIN: 49.8g