Learn how to prepare a low-carb, Easy Keto Chocolate Frosty at home. This thick milkshake has the same taste as one from Wendy's but is lower in sugar and carbohydrates.

When I needed a quick snack, I used to adore getting a chocolate frosty from Wendy's. However, after giving up carbohydrates, this was no longer a choice.

I came up with my own keto slush recipe because of this. Making the thick frozen low carb milkshake in this manner is quick and simple.

With this treat, you won't be let down! It has a texture that is comparable to soft serve ice cream.
Ingredients for Keto Frosties
A thick milkshake may be made using just five basic components. They most likely already exist in your kitchen.
I make the creamy foundation using unsweetened almond milk and heavy whipping cream. The flavor is created with low-carb sweetener, unsweetened cocoa powder, and vanilla extract.
You may simply use a non-dairy heavy cream replacement to make the dish dairy-free.
Steps for Making a Low-Carb Shake
The preparation time for the shake is only ten minutes. However, you will need to allow for two to three hours of freezing time.
Just carry out these easy steps.
Whisk heavy cream until it forms soft peaks.
While beating, gradually add the remaining ingredients to create stiffer peaks.
Every 20 minutes or so, stir with a fork while it is frozen.
When soft serve consistency is obtained, take out of freezer and enjoy.
Variations of Frost
To suit your preferences, feel free to change the sweetener amount. However, some people might prefer their shakes to be sweeter or less sweet than I do.
The combination can, however, be churned in your machine because it will be more simpler.
Instead, increase the vanilla essence to 1/4 to 1/2 teaspoon and eliminate the cocoa powder if you want to make a vanilla Frosty. Vanilla bean is an additional option.
By using syrups or flavor extracts that are keto-friendly, you can even add other flavors!
Questions and Answers
Describe the Frosty.
A Frosty is a frozen delicacy offered by Wendy's, a restaurant franchise. It is a hybrid of a milkshake and soft-serve ice cream that is available in chocolate or vanilla.
How many carbohydrates are in a Frosty?
A junior-sized Wendy's Frosty contains 33g of carbohydrates. But for a serving of a comparable size, my keto-friendly version has fewer than 5g net carbs.
Which sweetener works the best?
In my initial recipe, Truvia was used. However, a low-carb granulated sweetener like Lakanto Classic White that is around 2 teaspoons works just as well.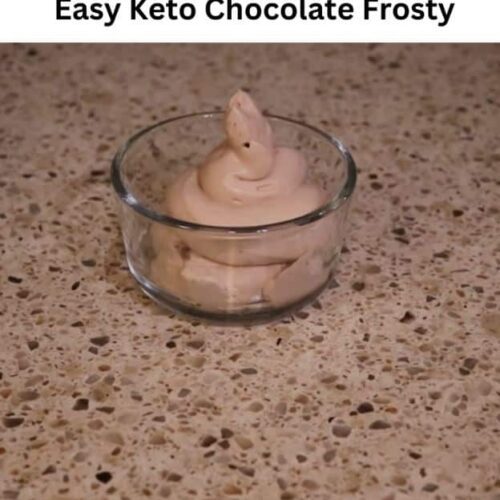 Easy Keto Chocolate Frosty
Learn how to prepare a low-carb, Easy Keto Chocolate Frosty at home. This thick milkshake has the same taste as one from Wendy's but is lower in sugar and carbohydrates.
Ingredients
6 tablespoons heavy cream for whipping

5 tablespoons of almond milk without sugar

1/8 teaspoon vanilla essence without sugar

Cocoa powder, 2 teaspoons

1 1/2 teaspoons Truvia or the equivalent of 2 tablespoons of sugar replacement
Instructions
Using a mixer, begin beating cream until soft peaks appear.

Add the remaining ingredients gradually.

Beat onward until stiffer peaks start to appear.

Remove from freezer after 20 minutes and use fork to break up any frozen edges.

Every 20 minutes, check on the mixture and stir it until it is cool enough and the proper consistency.
Notes
If you have an ice cream maker, you may quickly freeze the mixture by churning it in the machine.
If a blender can whip cream to soft peaks, it can be used in place of a mixer.
To make a vanilla frosty, omit the unsweetened cocoa powder and increase the vanilla bean or extract instead.
Keto Sweetener Conversion Chart for Low Carb Sweeteners
Nutrition
One shake contains 346 calories, 8.4 grams of carbohydrates, 4 grams of protein, 36 grams of fat, 22 grams of saturated fat, 1 grams of polyunsaturated fat, 11 grams of monounsaturated fat, 123 mg of cholesterol, 87 mg of sodium, 87 mg of potassium, 4 grams of fibre, 3 grams of sugar, 1500 IU of vitamin A, 0.8 mg of vitamin C, 210 mg of calcium, and 1.6 mg of iron per serving.