Keto Burfi. Sometimes in life, the most straightforward things are the best. No matter how simple or difficult a dessert is to prepare, when it's done well, it's incredibly satisfying.

This is especially true for the delicious yet rather simple ricotta Burfi. If you're unfamiliar with burfi, picture a dense cake that resembles custard and is typically baked with condensed milk, ghee, or plain powdered milk and sugar.

However, in this recipe variant, cheese curds (ricotta) and butter are swapped out for these ingredients together with a low-calorie sweetener. Then, a variety of additional tastes and textures can be added, but the basic, amiable flavor of burfi will always remain.

Ricotta burfi is a traditional Indian delicacy or sweet that is made especially for special occasions. Barfi, with a "a," is a common name for it, although barfee and borfi are also frequently used.

Why create creamy ricotta burfi, you ask? First off, it tastes good. Additionally, it is relatively satisfying and healthful. Additionally, the sweet treat has a festive vibe and enormous cultural significance, so it's more than just a simple treat!
What you'll require?
One pound of ricotta and unsalted butter are required for this recipe. You can easily make ricotta at home by adding a few tablespoons of lemon juice to warm whole milk to separate the milk curds from the whey.
Ricotta is of course available in practically every retailer. Just make sure to thoroughly drain it. All of that excess moisture is not what we want!
In order to give the burfi its customary smoothness and milky flavor, we'll also need milk powder. For the greatest results, use milk powder that is natural and unsweetened.
Then there is the sweetness, and to make these Indian delicacies guilt-free, you know you want to use a zero-calorie sweetener. I use allulose, but you may substitute any other sweetener. Find a sweetener conversion chart online and modify the recipe to use your chosen sweetener.
The most interesting part comes last: a dash of cardamom and a handful of finely chopped pistachios. It goes without saying that you can substitute almonds or peanuts for the nuts or leave the burfi nut-free for a cleaner appearance.
Making Creamy Ricotta Burfi: What to Do?
Below is a thorough recipe, but let's just quickly go through what we're doing and what you'll need first.
A baking sheet or other big pan is required so that the burfi may cool and take on its final shape. A big skillet is also required to cook the butter and ricotta to make a paste. Next, add the sweetener and milk powder. The burfi is being finished off with the cardamom and nuts. The entire procedure is really simple.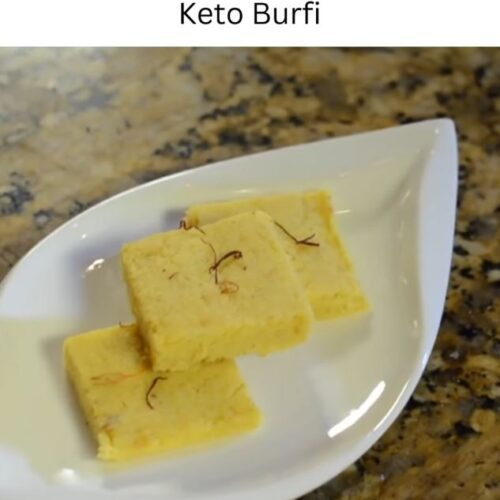 Keto Burfi
Keto Burfi. Sometimes in life, the most straightforward things are the best. No matter how simple or difficult a dessert is to prepare, when it's done well, it's incredibly satisfying.
Ingredients
4

tbsp

unsalted butter

1

pound

ricotta, drained

1

cup

milk powder

1

cup

allulose

Pinch of ground cardamom

1/4

cup

chopped pistachios
Instructions
Put parchment paper on a baking sheet and set it aside.

Melt(over medium heat) butter in a skillet . Add the ricotta and whisk regularly until well incorporated.

Add the allulose and the milk powder. Stirring as the mixture simmers (10-15 minutes)

The pistachios are added after the cardamom seasoning. Pour over the baking sheet after removing from the heat.

Cut the mixture into the appropriate shape after letting it cool at room temperature.
Information on nutrition:
12 servings per yield.
Calories per serving are 112; total fat is 8g; saturated fat is 5g; unsaturated fat is 3g; sodium is 60mg; carbohydrate is 4g; sugar is 0g; and protein is 6g.