No matter what you name them—grinders, hoagies, or sub rolls—these low-carb, gluten-free Keto Hoagie Roll have a great texture and only 2 net carbs per serving!
SUB ROLL OR GRINDER: WHAT IS IT?
An Italian Parmesan, meatball, or Italian deli meat and cheese hot sandwich in a long, flat Italian bread roll was known as a grinder where I currently reside in New England. However, the interior was soft and fluffy. The exterior was really rustic and crusty.
You really needed to use your teeth to grind into that bread in order to take a mouthful, hence the term "grinder."
According to the legend I've heard, a man from Groton, Connecticut named Benedetto Capaldo invented the enormous grinder.
Due to the fact that Groton was the location where the Navy's submarines were built, it eventually earned the nickname "sub".
Subs are typically cold sandwiches that were given the abbreviation "sub" because of their shape.
Although it is soft and fluffy in the middle and a pretty fantastic substitute for individuals who can't have gluten and need low carb, I will most definitely not convince you that my low carb keto sub roll tastes even remotely like to Italian bread.
A KETO BLT'S RECIPE
With this amazing keto bread, making a fantastic Keto BLT sandwich is quite simple.
Slice a hoagie roll in half to get one serving. Apply some mayonnaise and avocado oil to each side. Include lettuce, tomatoes, and crispy bacon!
KETO FRENCH BREAD PIZZA METHOD
Slice one portion of my keto sub roll, toast the two pieces, and you've got a keto French bread pizza. If desired, include pepperoni, shredded mozzarella, and marinara sauce.
Enjoy melting cheese after 2-3 minutes of broiling on high.
FAQs about LOW CARB KETO SUB ROLL
CAN THE EGG WHITE PROTEIN BE SUBSTITUTED?
Whey protein can be used in place of the egg white protein powder, but you have been forewarned that the loaf will lose some of its volume. Although the texture won't be the same as when using egg white protein, the flavour will still be fantastic and more like my Cloud Bread Loaf made with dairy.
CAN I SUBSTITUTE MILK FOR THE MAYONNAISE?
Mayonnaise should not be substituted with dairy because the texture won't be the same and you'll effectively be making my prior dairy cloud bread recipe.
CAN I USE AVOCADO OIL INSTEAD OF MAYONNAISE?
No, using avocado oil in place of the mayo won't produce the same texture.
CAN I MAKE HAMBURGER ROLLS OUT OF THESE?
Yes, if you'd rather have rolls than a loaf of my dairy-free cloud bread. For the best results, bake for 30 minutes using this hamburger mould.
IS USING THE LIQUID ALLULOSE REQUIRED?
Replaceable liquid Allulose If all you have on hand is granular Allulose, that's what I used.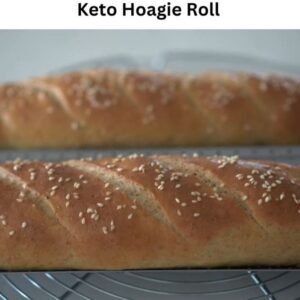 Keto Hoagie Roll
No matter what you name them—grinders, hoagies, or sub rolls—these low-carb, gluten-free Keto Hoagie Roll have a great texture and only 2 net carbs per serving!
Ingredients
pinch salt

½

teaspoon rye extract

1

cup egg white protein powder

½

teaspoon xanthan gum

½

teaspoon baking soda

1

teaspoon baking powder

¼

cup Allulose liquid

½

cup mayonnaise

1

teaspoon white vinegar

6

eggs, separated
Instructions
the oven to 300 degrees Fahrenheit.

Egg whites and vinegar should be combined in a stand mixer before being whipped to stiff peaks. It ought to take 10 to 15 minutes. Place aside.

Blend the egg yolks and the remaining ingredients in a powerful blender until they are completely smooth.

Blend the whipped egg whites and a portion of the yolk mixture until mixed. 3 batches should be merged.

Use only two of the cavities in a Sub Roll Pan to pour batter into.

Bake for 25 to 30 minutes on the middle oven shelf. Turn off oven and leave in for a further 5 to 10 minutes. Before removing and slicing, let cool.

It yields two 12 inch rolls. Half a sub roll (6 inches) is the size of the serve.
Notes
0g Net Carbs
Nutrition
Serving Size: 1 Serving; Calories: 372kcal; Carbohydrates: 2g; Protein: 25g; Fat: 30g; Saturated Fat: 5g; Polyunsaturated Fat: 1g; Monounsaturated Fat: 2g; Trans Fat: 1g; Cholesterol: 279mg; Sodium: 492mg; Potassium: 193mg; Fiber: 1g; Sugar: 1g; Vitamin A: 356IU; Calcium