Experience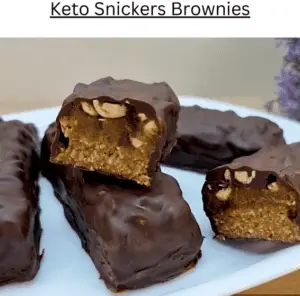 the heavenly combination of rich chocolate, gooey caramel, and crunchy nuts in every bite with these Keto Snickers Brownies. This low-carb, sugar-free delight brings all the flavors of the classic candy bar into a guilt-free treat. Indulge in the luscious layers of chocolatey goodness without compromising your keto lifestyle. Prepare to be transported to a world of decadence where every square is a celebration of flavor without the sugar overload.
Free Keto Meal Plan: STEP-BY-STEP KETO DIET PLAN FOR BEGINNERS
Recipe: Keto Snickers Brownies
Free Keto Meal Plan: STEP-BY-STEP KETO DIET PLAN FOR BEGINNERS
Ingredients:
For the Brownie Layer:
1 cup almond flour
1/2 cup unsweetened cocoa powder
1/2 cup unsalted butter, melted
3/4 cup granulated keto sweetener (such as erythritol or monk fruit)
2 large eggs
1 teaspoon vanilla extract
1/2 teaspoon baking powder
1/4 teaspoon salt
For the Caramel Layer:
1/2 cup sugar-free caramel sauce (store-bought or homemade)
1/2 cup chopped roasted peanuts
Chocolate Ganache:
4 oz dark chocolate (at least 85% cocoa), chopped
1/4 cup unsalted butter
2 tablespoons powdered keto sweetener
Free Keto Meal Plan: STEP-BY-STEP KETO DIET PLAN FOR BEGINNERS
Nutrition Facts (Per Serving – Makes 16 servings):
Calories: 180
Total Fat: 16g
Saturated Fat: 8g
Total Carbohydrates: 6g
Dietary Fiber: 3g
Sugars: 1g
Protein: 3g
Free Keto Meal Plan: STEP-BY-STEP KETO DIET PLAN FOR BEGINNERS
Servings:
This recipe yields approximately 16 decadent Keto Snickers Brownies.
Free Keto Meal Plan: STEP-BY-STEP KETO DIET PLAN FOR BEGINNERS
Instructions:
1. Preheat Oven:
Warm the oven up to 175°F (350°F). Prepare a square baking pan by greasing it and putting parchment paper inside it.
2. Make the Brownie Layer:
The melted butter, keto sweetener, eggs, and vanilla extract should all be mixed together well in a mixing bowl.
Butter, cocoa powder, baking powder, and salt should all be added. As you mix, a smooth cookie batter will be made.
3. Bake the Brownie Layer:
Place the brownie batter in the pan that has been made. Make the top smooth.
After the oven is hot, bake for 18 to 22 minutes, or until the edges are set but the middle is still a little soft.
4. Prepare the Caramel Layer:
After baking the brownies, let them cool down a bit. The cookie layer should be cool before adding the sugar-free caramel sauce on top. Then, add the chopped peanuts on top.
5. Make the Chocolate Ganache:
You can use a double pot or the microwave to melt the dark chocolate and butter together in a bowl that can handle heat.
Add the powdered keto sugar and mix it in until it's smooth.
6. Pour the Chocolate Ganache:
Put the chocolate ganache on top of the peanut and caramel layer and use a spoon to spread it out evenly.
7. Chill:
Put the brownies in the fridge to cool down, and then wait at least two to three hours for the layers to set, or until they are hard.
8. Slice and Serve:
If the brownies are totally chilled, use the parchment paper to lift them out of the pan. Serve it cut up into pieces.
9. Enjoy:
Enjoy these Keto Snickers Brownies as a treat that will fill you up and make you feel good. Savor each layer of chocolatey, caramel goodness.
Free Keto Meal Plan: STEP-BY-STEP KETO DIET PLAN FOR BEGINNERS